Bicycle Accidents Can Cause Catastrophic Injury
Every year, thousands of bicycle accidents occur, many resulting in catastrophic injury or death. Although bicyclists have a right to share the road with other vehicles, many motor vehicle operators do not understand the rights of bicyclists on the road. Because cyclists have little protection from the crushing weight of a vehicle, they inevitably bear the brunt of the impact in a collision with a motor vehicle. Fortunately, if you have been injured in a bicycle accident, Roger 'Rocky' Walton and the team of accomplished personal injury lawyers at Law Firm of Roger 'Rocky' Walton, P.C., in Arlington, TX, can help you receive compensation to cover your expenses.
Why Bicycle Accidents Happen
Bicycle accidents involving a motor vehicle usually occur as a result of driver negligence or error. These can include:
Distracted driving – From talking or texting on the phone to conversing with other passengers, drivers get distracted in many ways. A driver can veer into the bicycle lane if he or she is distracted for even a split second.
Right turns – Drivers may not acknowledge or think about the bicycle path to their right. They may turn right, not realizing that a bicyclist is approaching at exactly the same moment.
Speeding or Reckless Driving – The faster you drive, the longer it takes to come to a full stop. A driver going too fast or who is under the influence of drugs or alcohol may not be able to stop short of a bicyclist.
Opening a car door – After a car is parked, the driver and passenger exiting the vehicle must look to make sure no bicyclists are approaching. If they do not, an oncoming bicyclist with no time or space to react may wind up crashing into an open car door.
Roadway issues – Potholes, poor pavement, and loose debris can cause a bicyclist to lose his or her balance. Narrow sidewalks, bicycle lanes, and driveways often do not permit the necessary space to swerve out of harm's way.
Our personal injury lawyers will comb through police reports, photographs, witness statements, and all other available evidence to build the strongest case possible.​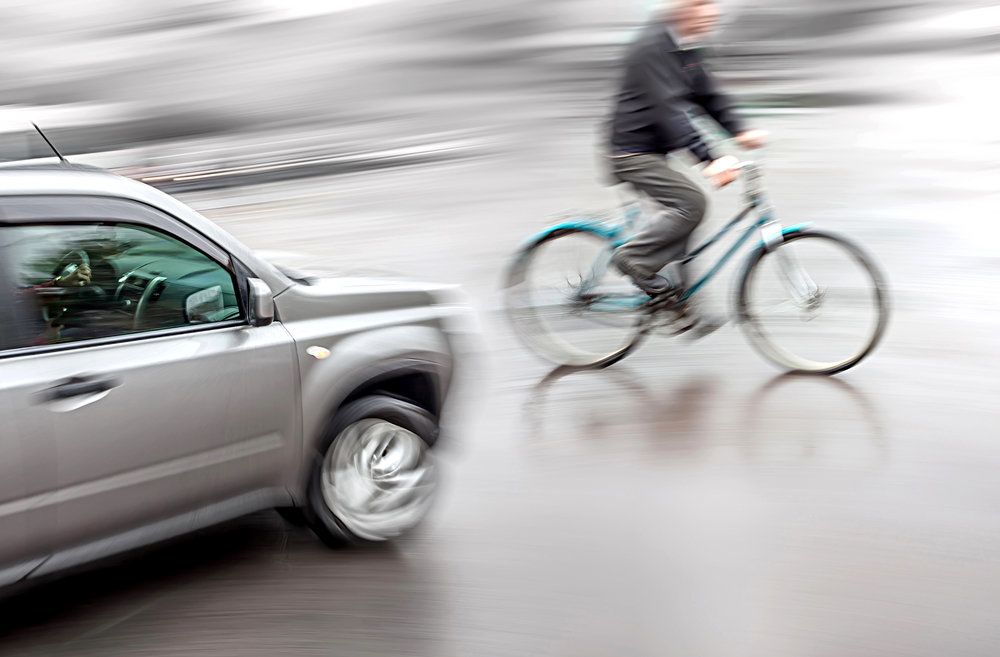 If you or a loved one have been injured while riding a bike, you need a lawyer to help you collect the compensation you deserve.
The Impact of a Bicycle Accident
Even a minor contact between a motor vehicle and a bicyclist can be dangerous. Should you be struck by a motor vehicle, it is important that you seek medical attention immediately, even if you think you are fine. You should also call the police to the scene of the accident, no matter how minor the accident may have been.
After the accident, you may still feel the impact in many ways. Between medications, rehabilitation, and doctor visits, medical costs can skyrocket. Further, if personal injury prevents you from returning to work or inhibits your ability to carry out work-related tasks, you could wind up out of a job. Your earning capacity may take a hit, and, if you are fortunate enough to be considered for a new position, you may not be physically able to attend an interview. All of these factors can create anger, frustration, sadness, helplessness, and withdrawal among many bicycle accident victims.
How We Can Help
While we cannot make your injuries disappear, we can help you seek restitution. Our personal injury lawyers will comb through police reports, photographs, witness statements, and all other available evidence to build the strongest case possible. We will work to establish fault by examining numerous possible causes, such as reckless driving, inattentiveness, dangerous road conditions, faulty gear, or inclement weather.
Contact Us to Learn More
If you have been injured in a bicycle accident, board certified personal injury lawyer Roger 'Rocky' Walton and his team at will thoroughly investigate your case to uncover the cause of the accident and help you receive the compensation you deserve. To learn more, contact us online or call (817) 429-4299 today.